Margin


Spring 2020
UI/UX, Research
Robert Poynton noticed in his short text, Do pause: you are not a to do list, "In general, we don't pay much attention or give much importance to the spaces in between all the tasks...The 'negative space,' which lies around or between objects or events, gives shape to the whole" (2019).
Here, Poynton held an understanding of what I think to be the core of the current human condition—we are busy, moving beings with endless desires and things to do that leave us unable to notice this "negative space." There is a thirst in us for more that is rarely quenched. It is hard for us to say no and when we do say no we feel guilt, shame, and uncertainty. When we finish one thing, still there is another. We tend to grow more anxious and worn, stuck in a cycle of complacent restlessness.


A spread from my thesis prospectus


As a result to Poynton's own thesis, I came to a conclusion that space or "rest," a form of regenerative self maintenance, is what is needed to contest these societal norms and combat a world of pathological busyness.
I wondered how space can make us more perceptive beings, how we can establish new habits, and how we can shift our thinking to see rest as positive and progressive. But most importantly I asked, how can we better respect our ecosystem's need for rest and collectively work towards an esteemed view of it?




All of these questions and all of my research culminated and extended into Margin—an app that exists to help us plan the moments we have between "work" and to train ourselves to view rest as productive, not wasteful. In doing this, people can challenge the world's view of progress and start to see rest as instrumental to future work performance.
Through secondary and primary research gathered while completing my thesis prospectus, I grew closer to people and their experiences with work and rest in terms of empathy, understanding, and compassion. Through this research I was able to gather three key findings that would influence my UX thinking:


People don't know how to incorporate rest into their lives because they don't see the things they enjoy as restful or productive

People need permission and space to discover what is restful to them, in part, because of perceived pressures they face that keep them from resting
A new, collective understanding of productivity and a collective revere towards resting is needed to become a society that values rest just as much as it values work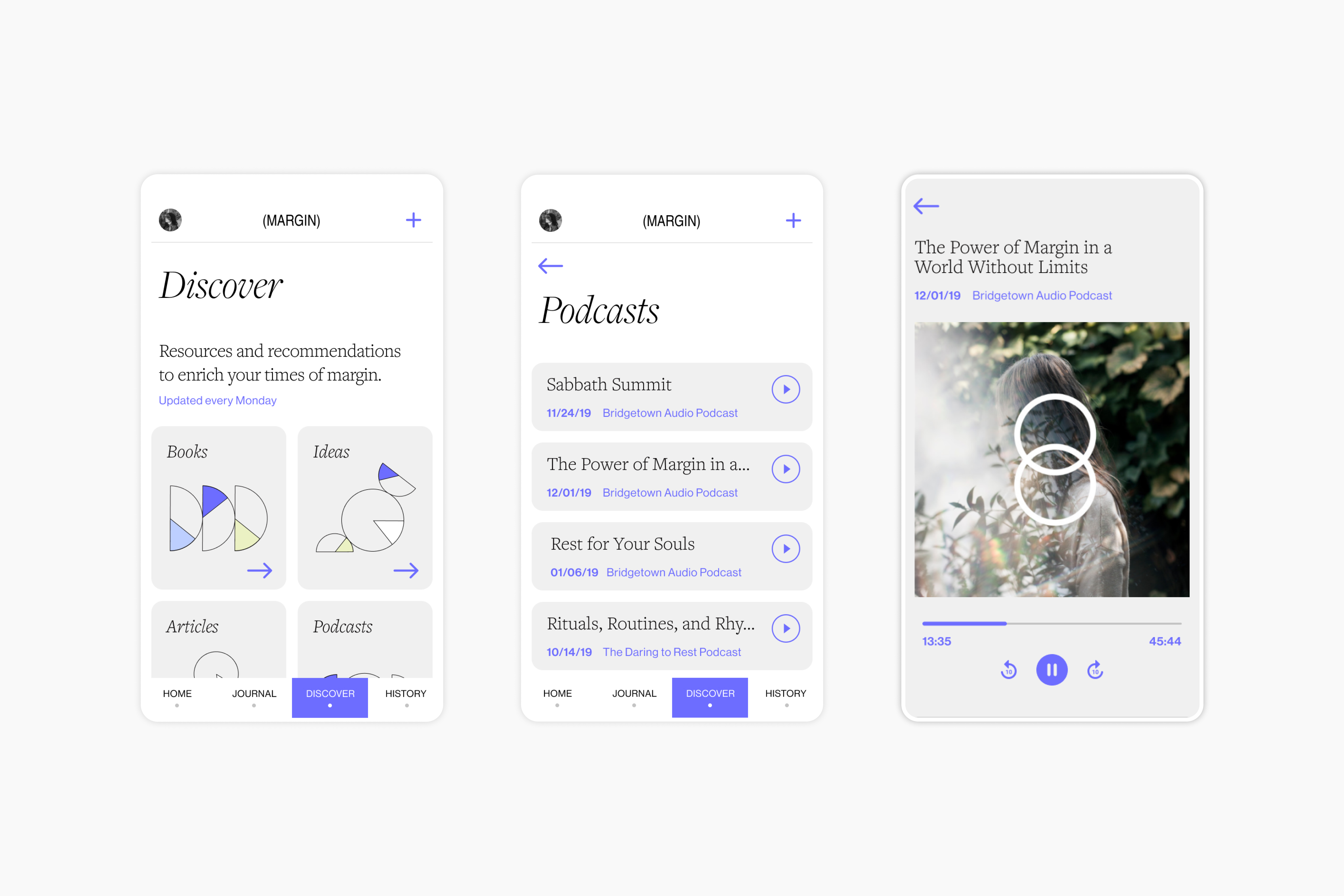 New Journal Entry, New Margin, and Discover flows

Margin seeks to touch on these findings by:


Giving people the tools and permission to schedule time doing the things that bring them rest
Providing a space to learn that rest is productive through the flow of checking off tasks and reflecting on them
Offering ways to discover what rest is and what is restful to them

The app is built around a typographic and component system that

is underwhelming and simple, with careful consideration of emotions and color psychology. An electric blue violet takes on the calm, non-threatening characteristics of blue while also the stabalizing and uplifting character of purple. The circlular graphic elements are symbolic of time and express ways in which that time can be filled or not.






Breaking up interactions and flows into more screens created space for peace of mind and a sense of ease unlike other apps that can be overwhelming and cluttered. Using cards also made it easier to group information in a logical way.
As users begin to schedule and reflect on the margin they incorporate into their lives, it is celebrated to instill a new sense of meaning and accomplishment in a practice that is vital to a work-life balance, needed more than ever, and not always easy to do, but worth trying.