Maurice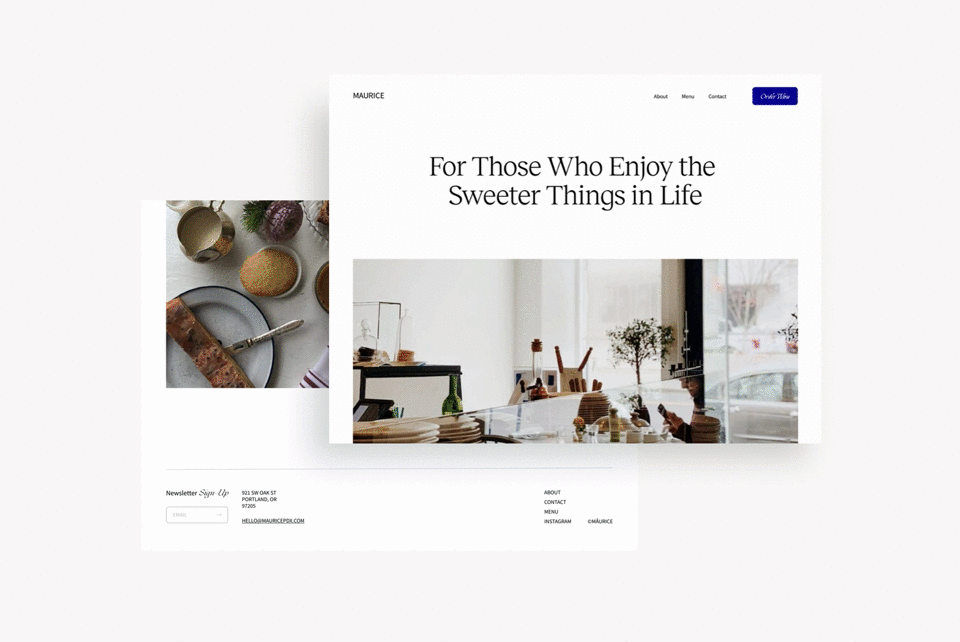 Spring 2020
UI/UX, Web Design

Maurice is a modern pastry luncheonette in the heart of downtown Portland, serving beautiful french fare and memorable visits. It lacked a website that was representative of it's credibility or character so I created a website that aligns with the story the luncheonette lives to tell as well as the hospitable old world charm and generosity it seeks to foster.




People visit the tiny sanctuary to eat great food with a story and no fluff, recieve a consistent warm welcome, and say hello to Kristen, the kind owner.
This is why I focused on curating warm and eclectic imagery representative of Maurice's felt environment. Leading with large imagery and just the right amount of intuitive compartmentalizations that give content the room it needs to breathe, established hierarchy and positive experiences that enhance ease of use and information absorption.



Maurice's audience is primarily design conscious, with an eye for beauty, minimalism, and french charm, so creating a sophisticated, but charming, type palette that speaks to Maurice's flavors, approachability, and character to increase the restaurants credibility and position in the Portland food scene was important.


Website on mobile


I further illustrated the feeling of being at Maurice through type, dynamic layouts, simple navigation and iteractions—bringing to light an accurate brand extension that embodies personability and the very sweetness of life that the restaurant was founded on.